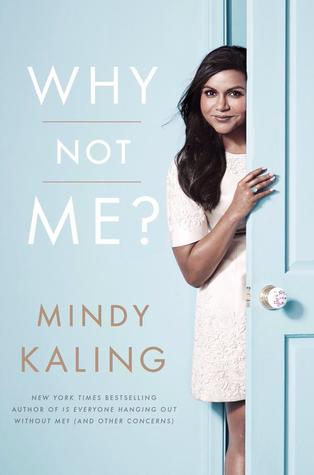 Warning: I have a slight obsession with MK. I will do my best to not be too biased.
I read her first book and I believe that is when I started to follow Mindy Kaling. I then watched the first episode of The Mindy Project and I was in love. This book was fantastic. It was also my first audiobook! I usually cannot stand to use audiobooks because I can't concentrate enough to just listen. I absolutely had to listen to this book because I knew that Mindy reading it would just add something else to this book. Oh boy, was I right. Her reading this really put this book over the top. I couldn't stop. It followed me around everywhere. I would play it when I was washing dishes, doing the laundry and even hooked it up to my Bluetooth for my showers. It was like I was living in a world where Mindy's humor and stories followed me around everywhere for two days. I am so glad that I listened to the audiobook, instead of reading the book. So thank you Mindy, for breaking my audiobook virginity. I didn't think it would ever happen!
This book was much better for me than her last. Don't get me wrong, her last book was good but this one is great. I love how open she is about her work and her life. She can be real and then throw in a joke like it's not a second thought. It's one of the reasons I love, The Mindy Project, so much. She knows how to add all these lines but make it flow, like it's so natural. I can't tell you the number of times that she made me laugh. Really, I had such a hard time not waking my husband up from my laughter. I like how she doesn't hold back and tells you what she really thinks. It's like she has no filter when it comes to certain things. I think one of my favorite chapters was her explaining her relationship with BJ. If you are looking for a great and fun read, this is for you. If you are just obsessed with Mindy, this is definitely for you.