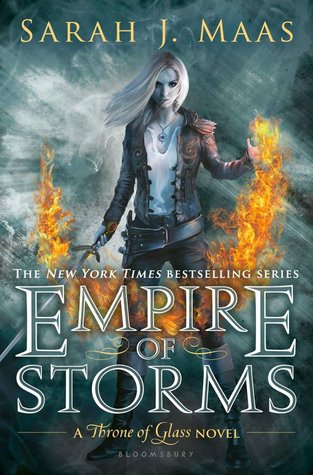 I could not wait to start this book and find out what was in store for Aelin and our group. I really became busy and was not able to write a review right away, which sucks. I'll be honest, things have become a bit fuzzy, since I've read a few other books between then and now.
This is by far, the best book of the series, in my opinion. It's still a monster of a book, especially for YA. The difference for the size, is that the plot is so much better. There is instant action and it doesn't stop, until the end. I did not feel the page numbers at all. I actually tore through this and didn't get bored at all. I LOVED how everything just started coming together in this book. We are finally getting somewhere!
I already love all the characters in this book but I really got to know them in this book. We get to know them all much better. One of the characters that I really loved in this book was Manon. We finally, FINALLY, get to see her away from the "pack." I was really hoping that she would cross Aelin and her gang and I got it. Manon's character is 100 times much more interesting in this book. I really can't wait to see what happens next. I think her and Aelin are just great together. I love the banter.
I really did like Elide and Lorcan's story but I felt that it was too predictable. So, it felt a little flat for me. I can't wait to see what becomes of Elide though. I feel like she's going to be pretty important later. There's some corny romance at times in this book. It is a YA, so I can look past it.
My favorite thing about this book was Aelin. Honestly, she's just so awesome. Things just kept going so horribly for them and I kept waiting and waiting for her to do something awesome. She actually does things that are unpredictable and selfless. Just when you think she's going to use her cunning brute force, she doesn't and it's beautiful. The end of this book will leave you so hungry for the next one. I cannot wait for the final book to come out. I can't wait to see how this all goes down!
This book has so much more sub plots, twists, turns and depth than the previous books. Sorry, this is so random. I don't think I'll be as busy now...hopefully. :)