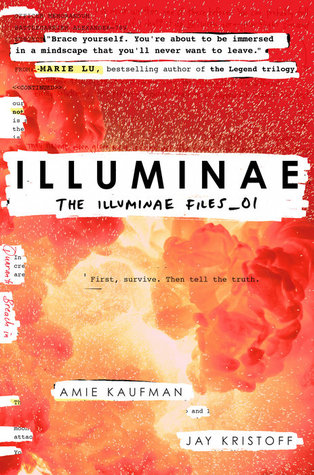 Honestly, I probably wouldn't have ever read this, if it wasn't for my co-worker. She was using this book in a ton of her bookstagrams- hey becca!
I loved this. It was probably one of the most interesting formats, I've ever read. This book is told in a format of recovered hacked emails, videos and transcripts. It's actually, quite impressive. I wasn't sure how she was going to get me to connect but she did. There is so much going on visually too. You get so many cool pages in this book. There's black pages where the text scrolls through or shoots out to make them look like stars. It's so different and I really liked it.
Now, onto the characters... I really loved Kady and Ezra. They were not only funny but smart and really love each other. Their hacked emails to each other where some of the best pages of this book. Don't get me wrong, there's definitely a lot of cheese in the romance area.
I might be in the minority here but I really did not like Aiden. Ugh, I don't trust any type of AI anyways. It naturally freaks me out. I don't think that what he did in the end really made up for all the horrible things that was done throughout the book. I just couldn't stand him! The lies and tricks! Ugh.
Anyways, this book does start off slow. You are trying to figure out what is going on and trying to connect to the characters through email. Slowly, things start to unravel but the great thing about this book is that things start to grow and build, until it just blows up in the end! I mean, it really does get fantastic by the end! The ending was just awesome! I'm glad that I waited so long to read it because the next book will be out soon!