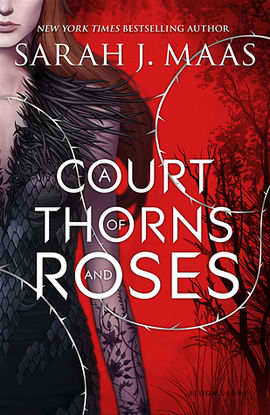 I decided to start this and see what all the fuss was about. I started this book when I got home from work and finished it the next morning.
This is loosely based on beauty and the beast. I didn't know that before I started. I totally got the Beauty and the Beast vibes when I was reading it. There are a lot of similarities but in a faerie world. I love Beauty and the Beast and fairies!
I liked this story but I didn't really care for the main "beast" character that much, Tamlin. I actually liked his friend, Lucien, much better. It might be because we get more of a dialogue between he and Feyre. I felt like this story lost a lot in the middle. We started off good and interesting but then lost something in the middle. I think it was just way too long. The ending is where all the action happens.
Feyre was okay as a character. I really feel like she should have asked more questions or should have tried harder to find out what was going on. She just kind of took everything as it came. She lost so much of what she was in the beginning of the book. She was strong and took care of her family. Then she just kind of is blah in the middle. Towards the end, that's when she becomes more like the beginning of the book. So, I wasn't in love with her character in this one.
I feel like this book was just basically a love story. It felt really romanticized and I didn't really get any of the bigger issues going on. At the end of this book, I was like.... what really could be next but a messy love triangle? I didn't get anything about the world or the problems/oppression. I felt like this book was really just a stand alone book.
I did like all the supporting characters and Rhysand. The last 1/3 of this story is what makes this book. I love how she had to fight for what she wanted. All the tests. where brutal but I loved her dedication. I really liked how it all came together.
I'm in the next book now and I'm not sure how I feel about it about 200 pages in. We will see.