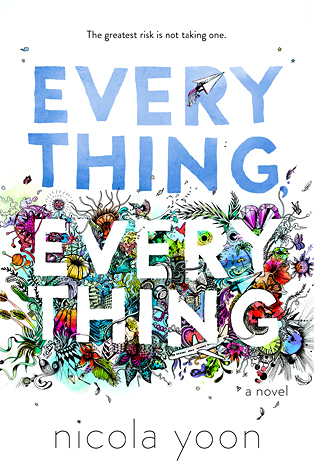 I want to thank Netgalley and the publisher for providing me with a copy of this book to review.
I was a bit disappointed. The reviews and my review do not add up at all. There are so many people that really liked this book but I just thought it was .. okay.
It really started out strong. I was really wrapped up into the story and got about 40% of the way through before I started to get a bit bored. The writing style was different and I'm not sure that I liked it so much. It was either that or I got a really bad ebook version. There were a lot of random letters/equations/ramblings in the middle of paragraphs. I'm not going to judge too harshly about that because I'm not sure if it was just the ebook I received.
Right away, you know this is going to be a typical YA love story. From first sight she's already smitten. Of course, she is. Although, with her living in a bubble all her life, I'm not that surprised. I really liked Olli's character at the beginning. I mean, we really don't learn much about SCID. Really, this girl just lives in white. I mean everything is white. That's pretty much all I get from it. There are some serious plot holes in this book! For example: She knows that she has this disease and then she runs off with her boyfriend?! I mean what about the nurse?! She should have known that she was living this way for a reason, then to throw all caution to the wind. Just so they could be alone and have sex. Not cool. What is it with these YA books lately?!
Then there is the ending. I saw it coming from the beginning. How else would this tie up really pretty with a bow on top? This was the only way that I could see it happening. So to me, it was predictable. I'm pretty good at figuring things out like this though. I missed my calling of being a PI. haha.
Anyways, this is a cute story and it was definitely worth the read. I just found a lot of issues with it and that's why it's getting the 3 stars. I was expecting a lot more from this book based on peer reviews. I just didn't see it.