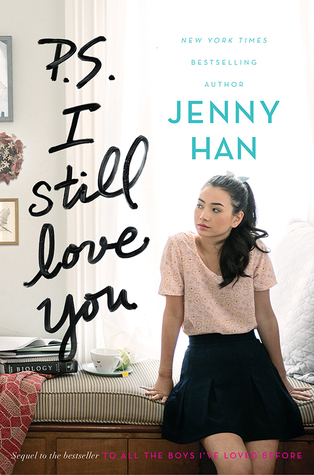 Wow. I cannot say enough good things about this series. This book was just as great as the first one. We pick up pretty much where the first book left off. Laura Jean's sister is coming home for holiday break and so we get more of her in this book.
LJ is trying to define her relationship with Peter. They are in a place where they are unsure of what they want to call themselves. They end up making another contract for their relationship. Basically, they just want to have fun with each other and they are not allowed to break each other's hearts. So of course, it's foreshadowing. You know what is going to come, I mean really.
I absolutely love EVERY single character in this book! LJ is just the sweetest, nicest girl with a touch of innocence. She's coming of age and learning about herself and her relationships. Her younger sister, Kitty, is fabulous. She adds a lot of spunk and attitude to this book. She says exactly what everyone else is thinking and doesn't think twice about it. She has her own opinions that she voices, but she will stick up for the ones she loves, without a second thought. Their sister Margo, isn't around much because she's away at college but she has a huge presence. She is just always there in LJ's mind and the way they add her into the book works. Their father is just so funny. You can tell he has his hand full with three girls but he's a great father.
Peter… Peter… Peter.. At first you are just so unsure of what he's doing. You can't believe he would act that way but then once it's all clear, you just love him more.
This book is basically about Peter and LJ finding out what they mean to each other. They go through some struggles but you just can't help but pull for them. The ending of this book is what MAKES this book. It's amazing and I still can't stop thinking about it. It's just so pure and real.
I love, love this book! I highly recommend them!