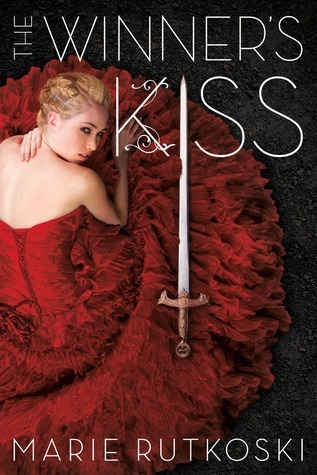 The Winner's Kiss by Marie Rutkoski
My rating: 4 of 5 stars
This is the third and final installment of the Winner's Trilogy. This book starts us off at beginning of the war between the East and the West. We also have Arin and Kestrel on two different paths. Kestrel has been caught and captured. We find her on her way to a brutal work camp. Then we find Arin in the thick of the war. He's leading ship battles and mostly, trying to convince himself that he doesn't love Kestrel anymore. He believes that she has betrayed him.
I absolutely loved the first book but then the second book fell flat for me. I had high hopes for this book and it did not disappoint! There's a lot going on in this book. We have the two main characters both vying for their lives on different parts of the country. We also have the war raging on. I loved Kestrel in this book. She is the absolute definition of a fighter. She fights to her very best and tries so hard to stay alive. Then later in the book, I love how she never just gives into what everyone is telling her. Even though, there are many frustrating points when you just want Arin and her to be together, I respect what the author did here. The characters in this series are just so amazing. I particularly, loved Roshar in this book. His commentary and character growth in this book were refreshing and surprising. I really didn't think I was going to like him as much as I did. I almost liked him more than Arin.
Once we get to the middle of the book, this book grips you and does not let go. I loved the times when Kestrel is trying to find herself and how caring he is. He is so patient with her and you can feel how much he loves her. I really enjoy the fact that Rutkoski, really made their relationship realistic. They are going through ups and downs that are so much more like real situations, lack of communication and personal struggles. These are things that everyday couples experience and it was nice to see her add some reality to it. She really had a run with my emotions in this book. Rutkoski, really had a gift with her writing.
Really, the only complaint I have is that this book was a bit long. There are times that it drug out a bit but that's okay. It wasn't terrible and it never lost me.
Overall, I think that Rutkoski did a fabulous job finishing up this series. I always dread the last book because most of the time, it's a big miss. She drew me in and never let me go. I am sad to see this series go but at the same time glad it ended well. I can't wait to see what she comes up with next! Loved this series!