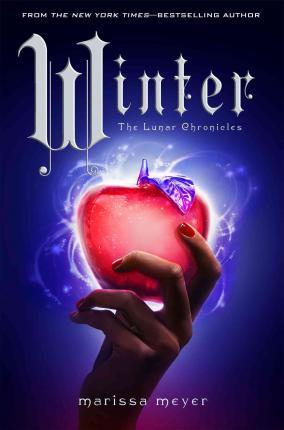 Winter by Marissa Meyer
My rating: 4 of 5 stars
This is the last book in the Lunar Chronicles series. We get to delve deeper into Princess Winter's character. She's stuck on Lunar with her evil stepmother, Levana, and can't get away. She's also battling her attraction to Thorne, her longtime childhood friend. In the previous books, we get the hints that Winter is weak and scarred. She is most definitely scarred but she is not weak. Together with the rest of the crew, they come together to fight the war we have been waiting for.
When I first grabbed this book, I was shocked at how big this book was. It is one of the longest YA books that I've read in a while. It made me really nervous because if a book is too much over 400 pages, I tend to get lost and bored. Fortunately, that never happened with this book. I started this and could not put it down the whole day. That's right, I started and finished it in one day! I understand why this was so long. With the previous characters, we get their story and their relationship and some of the bigger plot. With this book, she had to do this and finish the story.
I have loved this story since the beginning. Cinder will always be my favorite because she is clearly the leader. She is so strong and will do whatever it takes to help all the people/friends that she loves. She doesn't even want to be queen but fights so hard, just to get the people away from Levana's teirney. I loved Thorne's character as well. He adds so much fun to this book that you find yourself laughing a lot. His banter with the group, mostly Cinder, is just great.
Winter might be the strongest one of them all. She's seen as the weak one who has the scarred face and can't do anything on her own. It's mostly because Levana will not let her do anything. Levana is scared of her because she knows the truth. Everyone loves Winter for who she is. She's sweet, caring, and very strong. She decides not to use her Lunar gift and is suffering because of it. She's going a bit crazy but it's all because she refuses to use it. To me, that makes her one of the strongest characters in this whole book.
Now, some issues I had with this book… First, the size… I totally understand what she was trying to accomplish but it was a little too much. There are times in this story that there are too many things going on at once. Don't get me wrong, I enjoyed this book immensely. I just think there are things that were a bit overkill. Second, the ending was just a little blah. It drug out a bit too much and everyone's story cleaned up so nicely. I know, I know. It's a fairytale teen book. Was I wrong to expect so much more?
Overall, I loved this book and really enjoyed it. I cannot wait for her next one. She has some pretty hefty shoes to fill because she did a fabulous job with this whole series. Way to go, Meyer!