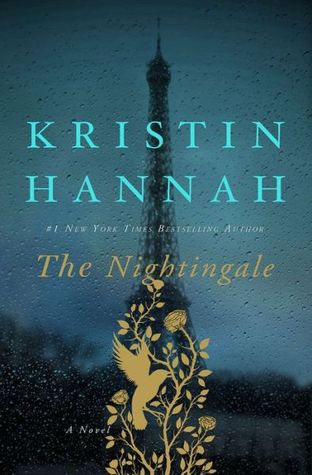 I haven't read many of Kristin Hannah's book. It's a shame since on of my favorite books ever is by her. I will definitely be reading more of her books this year. I loved this new book by her. I started it last night and just finished it today. I tried to do some chores and other things but I just couldn't concentrate because I had to know what happened next in this book.
This is a book about two sisters and how they survive during WW II in France. They are both very different personalities and are at different points in their lives. Vianne, is married with a child names Sophie. Her husband has just been shipped to the front lines. Isabelle, is reckless and headstrong. She is set in her ways and won't let anyone tell her what to do. She has been kicked out of several schools and she's on a journey to find someone that loves her. They had really bad child hoods and when their father came back from the war broken, then losing their mother. Their father drops them off with a horrible persona and then starts their lives in two separate directions.
Hannah does an amazing job starting off the book in present day but keeping the person anonymous. You realize it's one of the sisters but you have no idea which one. She then will flip back to the past and alternate POV between Vianne and Isabelle. It's amazing to see how they both grow so much and do what they never thought they could. Isabelle is dead set on helping out in some way. She hates the Germans and doesn't stand for what they are doing. She joins in the rebellion and starts "The Nightingale" with her father and some friends. She also finds a way to fall in love in the midst of war and ugliness. It's amazing how much she grows up when you get to the end of the story. Vianne is scared to death and has no idea what to do. She takes the approach of listening to their rules and keeping out of trouble. Then she finds out that she has to host a German soldier in her home. It's amazing the things that she does with the enemy living under the same roof.
The theme I get from this book is one thing for sure: Love. It's the thing that keeps showing up through this whole entire book. The things that they all do is for the love of their children. Vianne and her love for Sophie then Daniel shows no bounds. She does anything and everything, no matter what it does to her, to keep them safe and alive. Even though, Isabelle and Vianne have a past where they don't get along, they care about each other so much in the present. What they do for each other makes you feel the love. You even get the same with so many other characters in this book. One of the things I love about Kristin Hannah, is that at the end of her books, you will want to hug your loved ones. You will want to hold them close and never let go. She will make you bawl your eyes out but so very grateful for your life.
The character growth is outstanding. Isabelle has no purpose and is completely unlikable but by the end of the story she has made deep friendships and is loved and valued by many. Vianne is all about keeping to herself and not making any fuss to get noticed but then turns out to be a hero too. The story is complex but the style of the writing keeps it flowing so well and quickly. It's hard for a book to grab be so soon. I was about page 30 and I was completely sucked in. I just couldn't put the book down! This is a heart breaking, hauntingly beautiful story. This is a story that will stay with you for a long while. I still can't stop thinking about it. I can't wait to read more of Kristin Hannah.