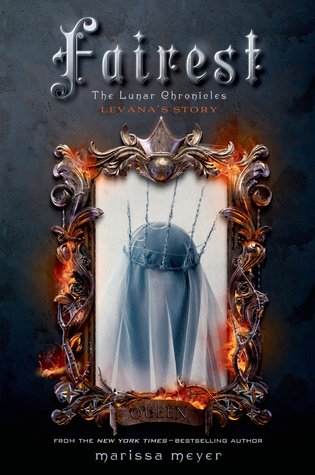 I love the Lunar Chronicles by Meyer. I am not going to lie, I was really bummed that she pushed Winter back and decided to do a "shorter story" about Levana. I feel like a lot of authors are using the story stories to make an extra buck. Don't get me wrong, I totally love them. I just didn't want to wait so much longer for Winter. I am so glad that I love this.
It's actually a decent size book. The 60 page short stories or "novellas" just make you want more. You feel so unsatisfied and it's like a tease. This is like half a book. A decent size and I feel like I got a good fix of this story.
This book is about Queen Levana. Her story and how she got to where she is now. It's a tough story. She's definitely the villain but I really feel sorry for her. She has a horrible life. Her sister is the definition of crazy and she treats Levana so bad. I mean the reason she has all the burns is because of her sister. She's evil. Poor Levana is just so starved for attention or any kind of love that she hangs onto the kindness of a guard. She quickly becomes obsessed with him and is so sure that she's in love with him. This is what starts the rest of her sad story. She is so sure that she's in love that she does whatever it takes to have him. She ends up getting more than she bargained for and never really has a happy ever ending with the man she loves.
I do believe that she loved him. Well in the only way that she knew how. I think that she only started to realize what she has done wrong when it's too late. If only she would have opened up to him and been more trusting in him, things could have been so different. The things that she does to become Queen and stay that way, are just horrible. I think that her husband could have been her saving grace. Although, the way she forced him into things and controlled him, it completely backfired.
I really do get so much more of an understanding of everything that has happened in the series so far. It's so great to get such a fulfilling story and not just a quick flash back. Thank you, thank you Meyer! I loved every minute of this book and I cannot wait for Winter! Not going to lie, I have the upmost, highest hopes for the last book. I love this series and will be sad to see it go. I'm also so ready to see how it is wrapped up!