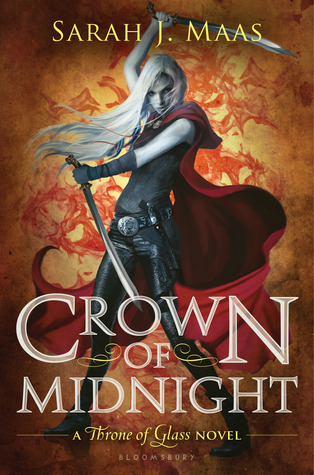 Wow! This book blew me away!
Okay, I totally understand why people have a love for this series. I guess, I shouldn't say that just yet, with two more books to go. The reason being, this book was fantastic! I was so let down by the first book because it was just slow and the plot didn't really pull me in. Not the case for this one, at all.
The plot is amazing. There is so much going on that it's a wild ride. You really just get sucked in and it's been a while, since that's happened with a book. I devoured this book in a short time. There is so much character development, plot development and the writing was fantastic. I will admit, this book does not feel like a YA. It's pretty dark at times and things are described very detail, especially the violence. It didn't' take anything away from me. It's just a warning, if you have teens reading this series. There was so much more magic and power. The way that Celaena's character developed was beautiful to see. She's much more powerful and there is so much more depth there.
It wasn't just Celaena's character either. We get so much more from all of them! They are all making mistakes and trying to learn from them. Gosh, Maas, did an amazing job with the relationships in this book. I love how she showed us vulnerability from all the characters. They are not perfect but they are trying their hardest. So much more intense and much more tangled. We not only read but understand how they are feeling toward each other. I love how there is no more love triangle. As a reader, you know exactly who is she is in love with.

There is so much deception, secrets and lies. They are all unraveling and it's becoming so interesting. I honestly, cannot wait to dive into the next book.
I'm so surprised that this book was not predictable. I didn't really know what was going to happen most of the time. I didn't expect that twist either, what a gut puncher! I can't wait to see how Maas works out all these relationships in the next book. I'm totally joining in all they hype! I hope the rest don't disappoint!