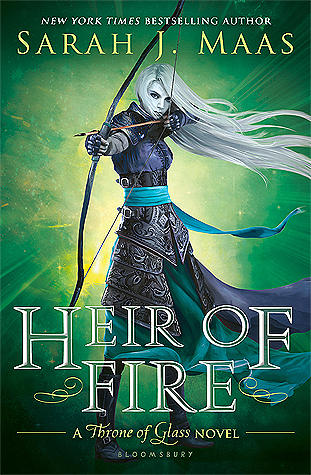 I started this book on Wednesday night and spent my whole day off Thursday reading. I am so glad that I kept up with this series because I'm loving it.
In this book, we start off with Celaena making her journey to Wendlyn. She is heartbroken and truly lost. She ends up getting "captured" by Rowen and taken to her evil aunt. She makes a bargain with her, to train with Rowen to gain information. Most of the book ends up though her whole process, while getting pieces of what is going in back in Ardalan with Chaol and Dorian. There's a lot of evil, lies, plots and crazy happening in this book. You get a lot of information about many different aspects but at the same time things are coming together.
The writing is just outstanding in this whole series. Maas does an amazing job doing different points of view throughout this series. There's a lot of times that I'm not fond of reading all the different perspectives of characters. It can drag out too much and bore me a little. She does not do this here. She does a great job, incorporating a lot of opinions and thoughts, while keeping the plot moving. You don't get much of a retelling, more of how they are moving forward and vital information. You get to see how all the pieces are moving, since all the characters are a bit scattered.
She has a way with words too. You can just feel what these characters are going through and feeling. Especially, Celaena and her dealing with her heartbreak and past. You can also picture everything she's writing, as if you are seeing it for yourself.
We already have a lot of characters but she adds more in this book. At first, I wasn't sure how I felt about Manon and her story but I feel like it's going to come together in an epic way. I really got into their perspective and how they do things. It was a bit separated from the books actual plot but I know that it will come together later. I think it's basically to give us a peek into the witches side of this whole war/world. It gives us some good information! I really loved Manon's character by the time we got to the end of the book.
Oh, how I love Rowan. Seriously, he might be my favorite out of all the male characters. He is tough and relentless. Although, you definitely see his other side when it comes to Celaena. They really have the perfect connection and are so similar. They way things come together for them was a bit predictable but I'm not mad about it. It's great! I cannot wait to see what happens in the future with them.
I thought that Maas did a wonderful job with Celaena's character in the second book and having her character grow. Boy, did she blow that out of the water in this book. She has Celaena grow into a true warrior/assassin/queen. She embraces her past and learns to deal with it. She makes it part of her and it just takes her to the next level. I love how she's fighting this constant battle of her past/present/future. She's constantly trying to hurt herself and not care about her life because she's trying to atone for the bad things she has done. She doesn't feel she deserves to be queen because she has done nothing for her people in 10 years. She is fighting this constant battle within herself and Maas does a great job making you feel it too.
This book doesn't have much in the romance sense but that's okay. There is so many other things going on, you don't have much time to miss it. I'm sure we will get a lot more in the next book. I really enjoyed this book and I cannot wait to start the next one.