To Play along, just answer the following three questions:
1. What are you currently reading?
2. What did you recently finish reading?
3 What do you plan to read next?
What I'm Currently Reading: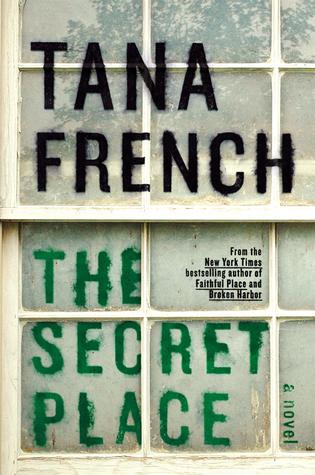 The photo on the card shows a boy who was found murdered, a year ago, on the grounds of a girls' boarding school in the leafy suburbs of Dublin. The caption says, I KNOW WHO KILLED HIM.

Detective Stephen Moran has been waiting for his chance to get a foot in the door of Dublin's Murder Squad—and one morning, sixteen-year-old Holly Mackey brings him this photo. The Secret Place, a board where the girls at St. Kilda's School can pin up their secrets anonymously, is normally a mishmash of gossip and covert cruelty, but today someone has used it to reignite the stalled investigation into the murder of handsome, popular Chris Harper. Stephen joins forces with the abrasive Detective Antoinette Conway to find out who and why.

But everything they discover leads them back to Holly's close-knit group of friends and their fierce enemies, a rival clique—and to the tangled web of relationships that bound all the girls to Chris Harper. Every step in their direction turns up the pressure. Antoinette Conway is already suspicious of Stephen's links to the Mackey family. St. Kilda's will go a long way to keep murder outside their walls. Holly's father, Detective Frank Mackey, is circling, ready to pounce if any of the new evidence points toward his daughter. And the private underworld of teenage girls can be more mysterious and more dangerous than either of the detectives imagined.

The Secret Place is a powerful, haunting exploration of friendship and loyalty, and a gripping addition to the Dublin Murder Squad series.
--I received this from netgalley. I want to thank them and the publisher for a copy! I am about 30% through on kindle and I am really interested. I read the first book in this series and really liked it. I have the other three but haven't had a chance to read them. So when I saw this on netgalley, I requested it. I was pretty stoked to receive a copy!
What I Recently Finished: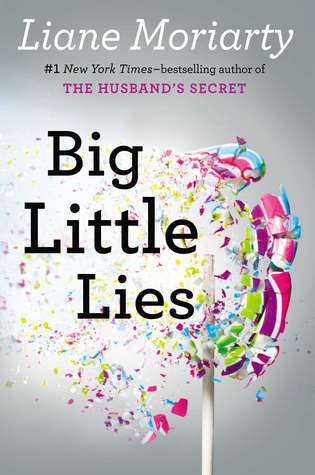 Check out the #1 New York Times bestseller Big Little Lies by Liane Moriarty, called "a surefire hit" by Entertainment Weekly.

Sometimes it's the little lies that turn out to be the most lethal. . . .
A murder… . . . a tragic accident… . . . or just parents behaving badly?
What's indisputable is that someone is dead. But who did what?
Big Little Lies follows three women, each at a crossroads: Madeline is a force to be reckoned with. She's funny and biting, passionate, she remembers everything and forgives no one. Her ex-husband and his yogi new wife have moved into her beloved beachside community, and their daughter is in the same kindergarten class as Madeline's youngest (how is this possible?). And to top it all off, Madeline's teenage daughter seems to be choosing Madeline's ex-husband over her. (How. Is. This. Possible?).
Celeste is the kind of beautiful woman who makes the world stop and stare. While she may seem a bit flustered at times, who wouldn't be, with those rambunctious twin boys? Now that the boys are starting school, Celeste and her husband look set to become the king and queen of the school parent body. But royalty often comes at a price, and Celeste is grappling with how much more she is willing to pay. New to town, single mom Jane is so young that another mother mistakes her for the nanny. Jane is sad beyond her years and harbors secret doubts about her son. But why? While Madeline and Celeste soon take Jane under their wing, none of them realizes how the arrival of Jane and her inscrutable little boy will affect them all.
Big Little Lies is a brilliant take on ex-husbands and second wives, mothers and daughters, schoolyard scandal, and the dangerous little lies we tell ourselves just to survive.
--I LOVED this book!! I got through it so fast because I couldn't put it down. It's a great read and I Highly recommend it! I just reviewed it too, if you want a bit more information!
1.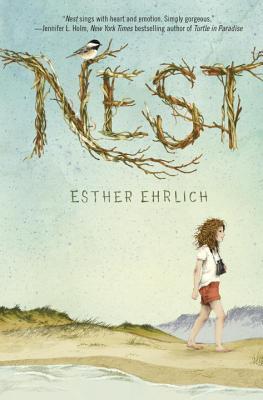 For fans of Jennifer Holm (Penny from Heaven, Turtle in Paradise), a heartfelt and unforgettable middle-grade novel about an irresistible girl and her family, tragic change, and the healing power of love and friendship. In 1972 home is a cozy nest on Cape Cod for eleven-year-old Naomi "Chirp" Orenstein, her older sister, Rachel; her psychiatrist father; and her dancer mother. But then Chirp's mom develops symptoms of a serious disease, and everything changes.
Chirp finds comfort in watching her beloved wild birds. She also finds a true friend in Joey, the mysterious boy who lives across the street. Together they create their own private world and come up with the perfect plan: Escape. Adventure. Discovery.
Nest is Esther Ehrlich's stunning debut novel. Her lyrical writing is honest, humorous, and deeply affecting. Chirp and Joey will steal your heart. Long after you finish Nest, the spirit of Chirp and her loving family will stay with you.
-- I was invited to read this from netgalley. I think it sounds cute so I'm excited to read it!
2.
In What I Had Before I Had You by Sarah Cornwell, a woman must face the truth about her past in this luminous, evocative literary novel of parents and children, guilt and forgiveness, memory and magical thinking, set in the faded, gritty world of the New Jersey Shore.

Olivia was only fifteen the summer she left her hometown of Ocean Vista. Two decades later, on a visit with her children, her nine-year-old son Daniel, recently diagnosed with bipolar disorder, disappears. Olivia's search for him sparks tender and painful memories of her past--of her fiercely loving and secretive mother, Myla, an erratic and beautiful psychic, and the discovery of heartbreaking secrets that shattered her world.
--I won this from a Goodreads, giveaway. I just received it and I'll be reading it here soon. Sounds interesting!
Those are my books. Feel free to share yours in the comments!!!