To Play along, just answer the following three questions:
1. What are you currently reading?
2. What did you recently finish reading?
3 What do you plan to read next?
What I'm Currently Reading: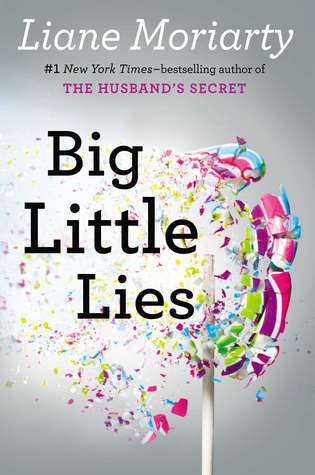 Blurb from goodreads:
A murder… . . . a tragic accident… . . . or just parents behaving badly?

What's indisputable is that someone is dead. But who did what?

Big Little Lies follows three women, each at a crossroads: Madeline is a force to be reckoned with. She's funny and biting, passionate, she remembers everything and forgives no one. Her ex-husband and his yogi new wife have moved into her beloved beachside community, and their daughter is in the same kindergarten class as Madeline's youngest (how is this possible?). And to top it all off, Madeline's teenage daughter seems to be choosing Madeline's ex-husband over her. (How. Is. This. Possible?).

Celeste is the kind of beautiful woman who makes the world stop and stare. While she may seem a bit flustered at times, who wouldn't be, with those rambunctious twin boys? Now that the boys are starting school, Celeste and her husband look set to become the king and queen of the school parent body. But royalty often comes at a price, and Celeste is grappling with how much more she is willing to pay. New to town, single mom Jane is so young that another mother mistakes her for the nanny. Jane is sad beyond her years and harbors secret doubts about her son. But why? While Madeline and Celeste soon take Jane under their wing, none of them realizes how the arrival of Jane and her inscrutable little boy will affect them all.

Big Little Lies is a brilliant take on ex-husbands and second wives, mothers and daughters, schoolyard scandal, and the dangerous little lies we tell ourselves just to survive.
I just started this last night and I can't wait to finish this! I'm hooked. I flew through 100 pages. It's my night read and I usually read 50 pages before bed. I passed that and stayed up a little late. I've started a new thing where I read books I have to read and review during the day and personal books at night. Well only while I have books to review. Anyways, this is so interesting and will probably get through this pretty quickly!
What I just finished:
This is a book that was provided to me through netgalley. I didn't know what to expect and I liked it okay. It wasn't as great as the reviews. I did also get the fourth book through netgalley, so I'll be reading that. I'm not sure if I'm looking forward to it or not.
What I'm reading Next:
Blurb from goodreads:
Can two people stay connected for a lifetime and each know the complete truth about the other? When New Yorker Nick Satterborn falls in love with Sassa Vikander, he's convinced the answer is yes. Nick Satterborn. Songwriter. Dabbler on the spiritual path. Survivor.

Sassa Vikander. Stunning chef. Seeker on the path of most resistance. Survivor.

Contentment percolates for a time, until the two are hurtled into a life of uncertainty, self-evaluation, and growth. Each dreams heroic dreams of overcoming his/her past, rising out of sadness, rediscovering home, finding peace. Their worlds dissolve and reform. People and events threaten to tear them apart.

The Color of Home is a story of love, of loss, of digging deep down to the bottom of things until maybe, just maybe, Nick and Sassa find the strength to become whole. Their journey offers a unique, honest glimpse into the life and love of a palpably rare relationship of our time.
This is a book that I won from a goodreads giveaway. It will be my next book and I can't wait to read it.