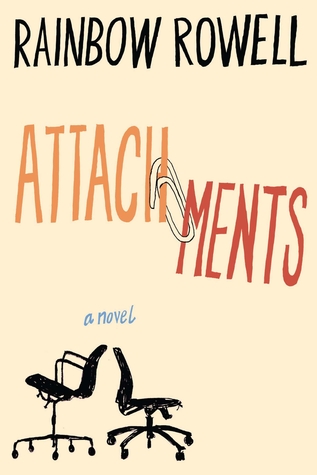 I'm glad that the first book I read by Rowell, was Eleanor & Park. So far, her other books aren't blowing me away. This was a cute story and I'm not sure that the months I was on hold for it, was worth it. I know that right now everyone wants to read all of her books because Eleanor & Park was so good.
I took this book on not knowing what it was about except for guessing from the cover. We meet Lincoln, who is just stuck in a rut. He hasn't really cared about anything but is STILL trying to get over his high school sweetheart NINE years later. Hmm.. There's something wrong with that. He lives with his mom, has multiple master degrees, plays Dungeons & Dragons, and works the night shift reading other peoples emails. Now, when he was in high school, he was popular, had a serious girlfriend and had friends. I'm not getting the connection. How can this guy go nine years without another interested girl? He is supposed to be so good looking and muscular, but yet, when he explains it, girls don't ever seem interested in him. So he's either giving off some creepy vibes or he's just really bad at reading signals.
He is a loner and just doesn't really care about life, until he starts enjoying the email interactions between two co-workers, Beth and Jennifer. Their email gets flagged a lot, so he always has them popping up in his inbox. Instead of giving them warnings and letting them know they are caught, he just keeps reading them. So this is how the story begins. Months go on and he's falling in love with Beth through her email. Then one day, he reads an email about himself. Beth had noticed him and calls him her "Cute Guy." All the while, she is in a committed relationship. Obviously, as much as she obsesses about him, she should know that if she were in a healthy relationship, she wouldn't be. Then it just gets a bit weird. She starts to stalk him! He ends up doing the same by going to the bar where her boyfriend plays in the band.
If it were me, I think the idea of someone reading all my emails for months on end, is just creepy. How do you get past something like that? Yeah, it can be seen as romantic but it's really an invasion of privacy. Besides this big moral issue, I thought the story was cute. I did like Beth's character a lot. You really get to know her and Jennifer through these emails. The emails take on some deep issues but also are funny and interesting.
You also get some nostalgic feelings with all the references to the 80-90's (mostly 90's for me). It's a light, quick read that was interesting but fell flat for me.